Goal Mapping in Finland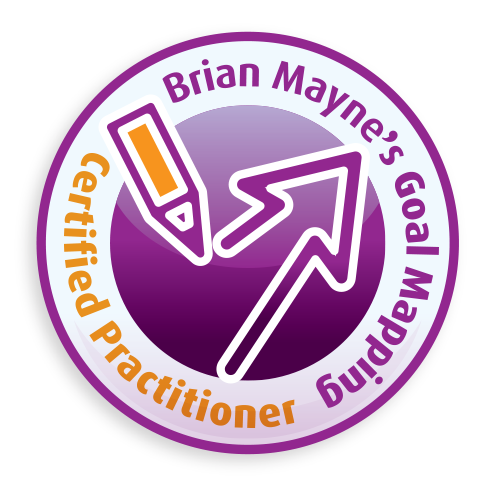 Quote from goalmapping.com:
"I developed the Goal Mapping system to help you choose, set goals and achieve goalsmore easily and more successfully. But where traditional goal-setting techniques focus on left-brain words and endless repetition, Goal Mapping also uses imagery – the language of the subconscious.
     This unique 'whole-brain' approach is designed to connect your consciously chosen goals to your subconscious mind. Your subconscious works like a helpful autopilot.
     Once a conscious decision or goal has been set, a sub-conscious process is triggered that begins to influence the transformation of that decision first into an attitude, then into an action, and ultimately into to an achievement.
     By creating a Goal Map, you develop a clear plan of what you want, why you want it, when and how you intend to achieve it, andwho will support you in the process.
     Underpinning your Goal Map is a philosophy of success that comprises seven core principles. By learning these and the system's other key ideas – which are as much a part of Goal Mapping as the Goal Map itself – you'll become fully able to steer your life towards the achivement of your goals.
     This simple yet powerful system is so effective that Goal Mapping has touched the lives of more than 4 million people in over 30 countries over the last 20 years or so.
     It is used by everyone from world-leading businesses, schools and sports teams, to wellbeing practitioners, weight-loss experts and world-champion athletes, as well as countless individuals.
     So, whatever form of success you seek, Goal Mapping can help you turn your dreams into realities!" - Brian Mayne
Goal Mapping lecture in Finland in Swedish, Finnish or English
Where there are a small group of 4-10 people or a bigger group of 11-200 and when you want to learn more about Goal Mapping and only have got 2-4 hours, we will be happy to serve your with the basic information of Goal Mapping.
Goal Mapping workshops also in Finland
When your perhaps are a little bit of lost in your life, when you think that "Everybody else has a better life", then it is time to take action and attend a Goal Mapping workshop.
You learn how your thought is affecting you, and by changing your patterns only very little you can change major things in your life. You learn how basic rules can be used to help you. And you learn how to use basic tools in achieving your goals - with Goal Mapping.
Call me for more information, see How to contact us
And when you want to learn even more, there are more: Life Mapping, Self Mapping, Action Mapping...
To whome
for everybody who wants to achieve something in their life
for young peopel (8-12 year)
for individuals
for groups (e.g. football teams)
for athletics
for business and companies (e.g. a project, sales department, the whole company)
for you who have a dream...
Why
find a method that leads you towards what you desire
become the Leader of your life
achieve the goals you want in your life or perhaps want out of your life
become independent
find The partner of your life
get rid of bad habits (too much alcohol, gambling,...)
Goal Mapping tools
When giving your information here, you will recieve a Goal Mapping template in your e-mail. You can download, after registering, Goal Mapping tools for free from here..
Goal Mapping online
Sometimes people think that they can't draw, then one solution is to creat it online. There is three levels, of which the first one is for free.But when if you want to upload your own pictures and perhaps to multiple maps then you have to upgrade. Please read, learn and do from this link.
Goal Mapping users
As you already might know Goal Mapping is used in very different environment around the world. The youngest are pupils aged 8-12, then there are all "we others", ordinary people that want something more out of our lives. Or we want to accieve e.g. a level in a competition. Another big group of users are the companies, from entrepreneurs to multinational companies. Independent if you are small or big - you benefit from using Goal Mapping; setting goals for the future - your future.
Here are some examples of companies that are using Goal Mapping: